Infrared oven height-adjustable material cart
All benefits at a glance
All benefits at a glance
Opto-electronic IR measuring head for measuring the material surface temperature
12 State-of-the-art infrared quartz tubes with single reflectors ensure an even heating
Work frame with removable Teflon-coated support plate for switching between sheet material and material in the vacuum forming frame
Stainless steel front panel
PID controller, temperature continuously adjustable from 30 °C to 250 °C
Mobile with 4 castors with brakes and with continuous height adjustment via gas pressure
Infrared Heating
Higher productivity with infrared ovens
Infrared ovens are the first choice when plastics need to be heated in the orthopaedic workshop.
The way they work makes the difference: In conventional convection ovens an object is heated by absorbing ambient heat in a closed compartment. In contrast, the heat in an infrared oven is generated in the form of electromagnetic waves absorbed by the material directly. This has many advantages: Higher speed, greater productivity and a significantly greater energy efficiency are the result.
Heat more quickly – consume less energy
An Ottobock infrared oven heats plastics in a very short time. A 4 mm thick polypropylene sheet can be heated in just 4 to 6 minutes. Infrared ovens do not need to be pre-heated – the radiant heat is fully available in an instant. This significantly reduces energy consumption in the orthopaedic workshop.
Technical data
Technical data
| Article Number | 701E43 |
| --- | --- |
| Equipment | Mobile material cart with four locking casters and continuous height adjustment with gas compression spring, working height lowest position 820 mm, working height highest position 1,050 mm, opto-electronic IR measuring head for measuring the material surface temperature, PID controller, temperature continuously variable from 30°C to 250°C, PLC controller with 3.5" touch panel, display of nominal and actual value, timer and ramp function, multilingual user interface, graphical gradient display, vertical sliding door, double-glazed viewing window, interior lighting 2 x 25W |
| Electrical connection in V/Hz/kW | 3x 400/ 50-60/ 7,7 |
| Infrared radiator | 12x infrared quartz tubes with individual reflectors top |
| Material | Steel |
| Outer dimensions WxDxH | 1.320 x 970 x 1.420 mm |
| Interior dimensions WxDxH | 1.000 x 800 x 500 mm |
| Interior volume | 400 l |
| Weight | 230 l |
Downloads
Infrared ovens for the orthopaedic workshop
701E40=S Infrared oven with rotatable material cart
701E41=WS Infrared oven with removable support plate
701E43 Infrared oven with height-adjustable material cart
701E44=S Infrared oven for small plastic sizes
Vacuum forming accessories
755T6=1 und 755T6=2 vacuum forming workstation with integrated vacuum pump
755T1=2, 755T1=3, 755T1=4 vacuum forming workstation with integrated tank
Accessories for vacuum forming workstations
Vacuum forming materials
Accessories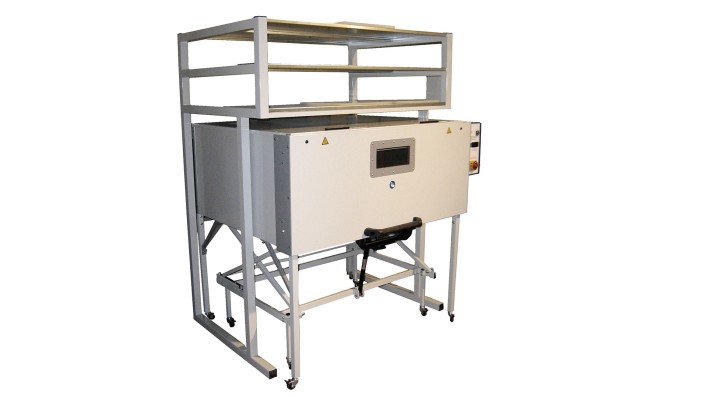 758R16=1425 Rack for infrared oven
For space-saving storage of sheet materials and vacuum forming accessories in the open space above the infrared oven.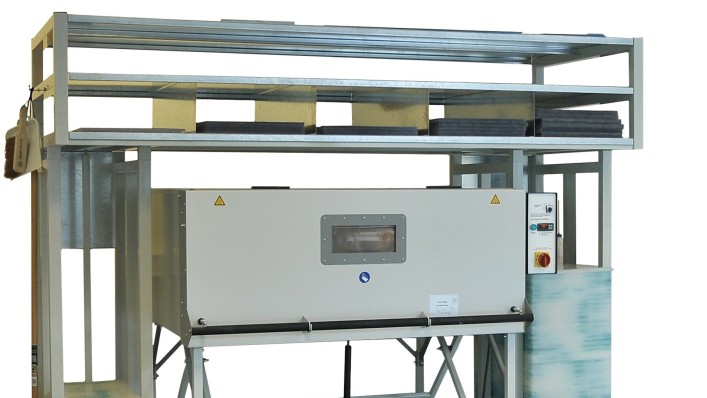 758R17=2265 Rack for infrared oven
Offers storage shelves to the side and above the infrared oven for space-saving storage of sheet materials and accessories for vacuum forming work.
---
Related Products
---