Frame and container preforms made of carbon
All benefits at a glance
All benefits at a glance
Clean and easy processing
Pre-determined layer structure
Simplified fabrication and less time to fabricate a socket
Waste of expensive reinforcement materials is minimised
Simplified quantity control in comparison to rolled and sheet goods
Specifications
Specifications
Reference number
Description
Measurements (mm)
A
B
C
5Z16=280X700X150
Frame preform
280
370
700
5Z16=350X700X150
350
500
700
5Z17=280X700X150
Container preform
280
370
700
5Z17=350X700X150
350
500
700
Reference number
5Z16 Frame preform
5Z17 Container Preform
Package contents
Three preforms for fabricating a prosthetic socket
Order by
1 pc.
Recommended components
4R41, 4R42, 4R42=1, 4R43, 4R89, 4R114, 4R111=T, 4R111=N, 4R116, 4R116=T, 4R117, 4R117=T, 4R119=NT, 4R119=T, 4R119, 4R119=N, 4WR95=1, 4WR95=2
Processing instructions
Processing instructions
Apply the M/L section with the short side oriented medially. Round the edges when shortening to the correct length.
Wrap around the radial section: position the reinforcement triangle medially in the perineum with the point towards the end of the residual limb. The radial section can be used for left-hand (carbon on the outside) and right-hand (carbon on the inside) sockets. Perform the first casting with the M/L section and the radial section.
Attach the anchor and position the faces of the star so they are centred over the anchor arms. Perform the second casting with the anchor and star.
The carbon preforms can be processed with all Ottobock resins.
Downloads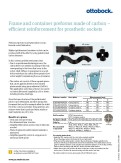 Frame and container preforms made of carbon
Efficient reinforcement for prosthetic sockets
Frame preform 5Z16
Container preform 5Z17
---