PROS.A. Assembly
---
All benefits at a glance
All benefits at a glance
Optimises the fabrication process for transtibial and transfemoral prostheses, reduces the fabrication time
Facilitates straightforward application of the Ottobock alignment recommendations
The socket, knee joint and foot can be securely fixed in the device
The mounting frame allows the integration of three lasers, so extra time does not need to be spent positioning them
A height-adjustable footplate allows you to work standing up and makes the alignment of TT prostheses easier
Alignment data can be documented and used for follow-up fittings
Technical Data
Technische Daten
| Articlenumber | 743A220 |
| --- | --- |
| Dimensions WxDxH | 800 x 900 x 2.100 mm |
| Weight | 45 kg |
| Scope of delivery | Adapter inserts for Ottobock knee joints |
Accessories
Accessories
743A211 Mounting frame with laser
The mounting frame can be used for the 743A220 PROS.A. Assembly and 743A200 PROS.A. Assembly (old version). It creates one frontal plumb line and two sagittal plumb lines.
743Y741 Caster wheels and fixed wheels
The set contains two caster as well as two fixed wheels which can be mounted under the PROS.A. Assembly. Thus, they enable the alignment apparatus to be easily slid to the desired storage space or the place where alignment is being performed.
743Y621=1 Star, large
The centring star with a diameter of 210 mm offers the possibility of optimally aligning even large sockets at any time.
Downloads
PROS.A. Assembly
Correct TT and TF prosthetic alignment: For enhanced mobility and optimum fitting quality
Alignment Recommendations for TF Modular Lower Limb Prostheses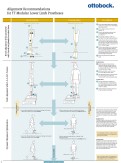 Alignment Recommendations for TT Modular Lower Limb Prostheses
---