Kraibon rubber
Fabricate flexible edges in combination with Ottobock prepreg.
Kraibon is a thin film of non-cross-linked rubber that cures together with the resin in the existing manufacturing process. A structure of hard and soft material can be achieved which combines the good mechanical properties of fibre composite plastics with the good "elastic" properties of rubber. The usual manufacturing process of a fibre composite component remains unchanged - no additional bonding agents are required.
This innovative technology is now also being used in orthopaedics and can be used, for example, to produce soft edges in orthoses. The drapability of the material allows it to be easily moulded to the component. It can be inserted and draped like prepreg. Different material thicknesses can be achieved by laying several layers.
All benefits at a glance
All benefits at a glance
Processing in combination with Ottobock pre-pregs – no adhesive or mechanical joint required for a flexible edge
Smooth transition between hard and soft material
Excellent draping characteristics for easy mould-ing to the component
Various material thicknesses can be obtained with multiple layers
Cut pieces of Kraibon rubber can be stored in the supplied grip bag in a conventional freezer
Can be combined with Ottobock reinforcement materials and Ottobock prepregs
Specifications
Specifications
| Article number | 616B65=2 |
| --- | --- |
| Packaging format | 28 blanks, 250 mm x 300 mm |
| Thickness of each blank | 0.5 mm |
| Package | 2 m² |
| Weight per unit area | 520 g/m² |
Processing instructions:
Cures only at temperature and in a vacuum
Do not laminate thin/sharp prepreg edges
Not for processing with peel ply
Downloads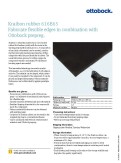 Kraibon rubber
Fabricate flexible edges in combination with Ottobock prepreg.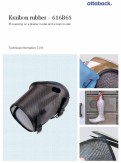 Technical information - Kraibon rubber 616B65
Processing on a plaster model and a foam model
---